Qd Double Girder Hanger Bridge Crane /Overhead Crane 100 Ton

QD Double Girder Hanger Bridge Crane /Overhead Crane 100 Ton is widely used in machinery manufacturing, metallurgy, ports, rail stations and warehouses. It has compact structure with small wheel pressure, which efficiently uses limited space in workshops to reduce structure investment.
Product Details
QD type double hook moverhead crane is main handling equipment for smelting workshop of steel works . The two hooks are cooperated with each other to finish the work of converying, pouring and hot metal charging of liquid metals in smelting proess. Due to the work situation is very tough, high efficiency and high security are required.
Mechanisms

1. Computer optimized design of box-typed main girder, the full length of web plate is cut and formed through numerical control and its deflection is accurate.

2. Low clearance structure of trolley and reasonable size of hook allowing the crane wide application scope.

3. Arc wheels or flat wheels, anti-friction bearings, honey-typed buffers and anti-derailment devices.

4. Three-in-one motor drive, steeples speed control, hardened reducer, safety disc brake.

5. Good performance, runs smoothly with the steeples speed control

6. Shot blasting grade reaches Sa2.5 after welding and releasing internal stresses to insure the best performance of main girder.

7. Painting epoxy zinc-rich primer, and the thickness of oil film is 140 μm.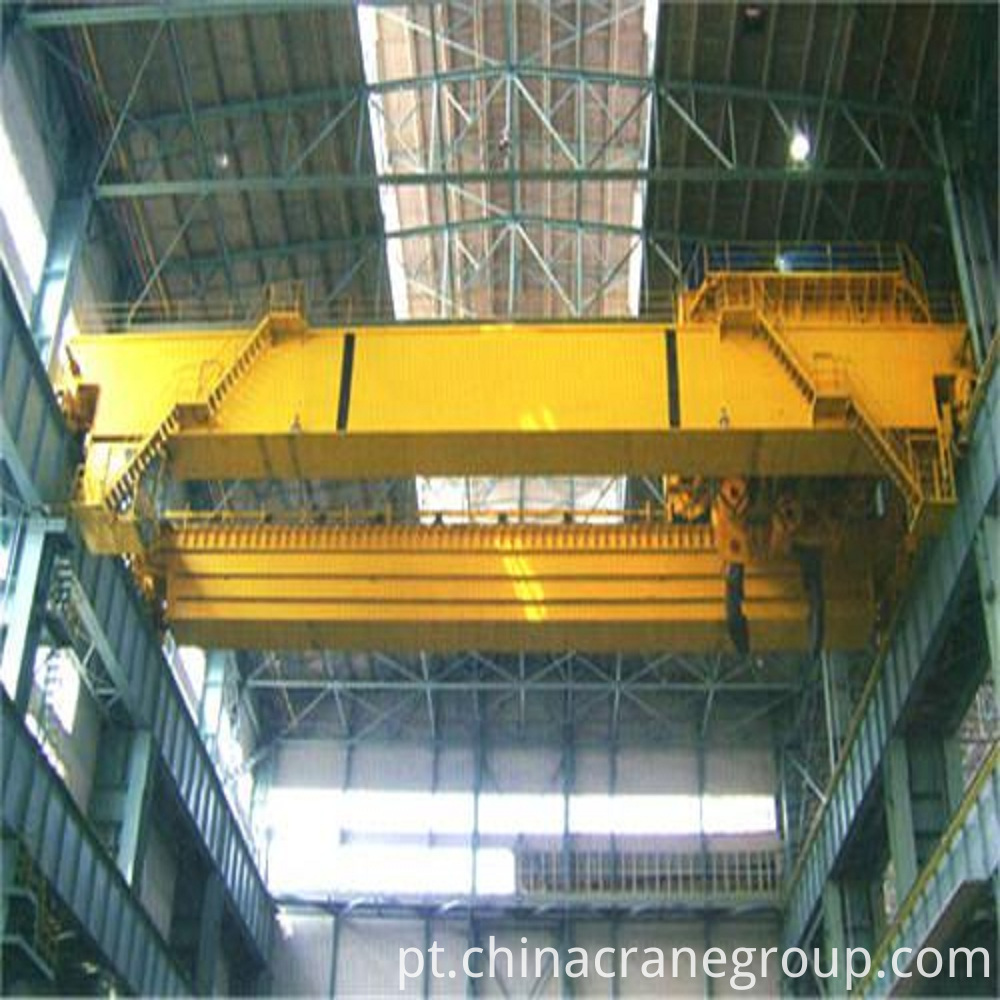 QDY Steel Making Industry High Temperature Double Girder Ladle Hook Overhead Crane is mainly used at the place where the molten metal is lifted. The working class of the complete machine is FEM 4M, and the thermal-protective coating is added at the bottom of the main girder. The assembling and test of the crane conform to the document No. ZJBT[2007]375 WHICH WAS ISSUED BY General Administration of Quality Supervision, Inspection and Quarantine of China. The place where molten nonmetal material and red-hot solid metal is lifted also can refer to this document.
Main features
Mainly consists of bridge, trolley, hook beam, crane travelling and electric part, etc.;
Adopt double-girder structure below 125t and four-girder structure above 125t;
The main grabbing device of main hook is fixed-spacing hook girder used to lift foundry ladle;
Auxiliary hook is used to work with main hook to dump the molten iron and do other subsidiary lifting operation;
Main hoisting and transportation equipment in steel mill and smelter workshop;
Used for transshipment and pouring of liquid metal during melting, etc;
Add thermal-protective coating under the main girder;
Ambient temperature: below +60°C, moisture: less than 50%;
Crane assembly and test accord with No. 375, 2007 document issued by AQSIQ.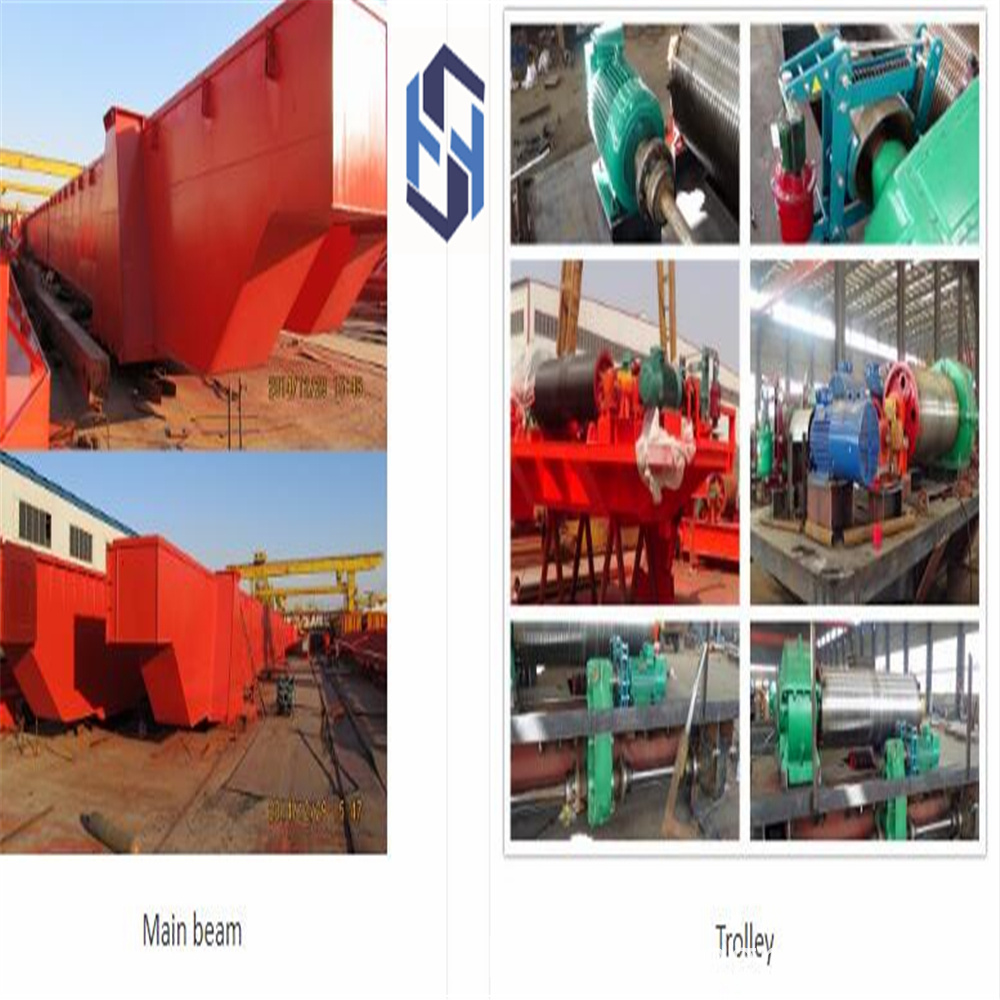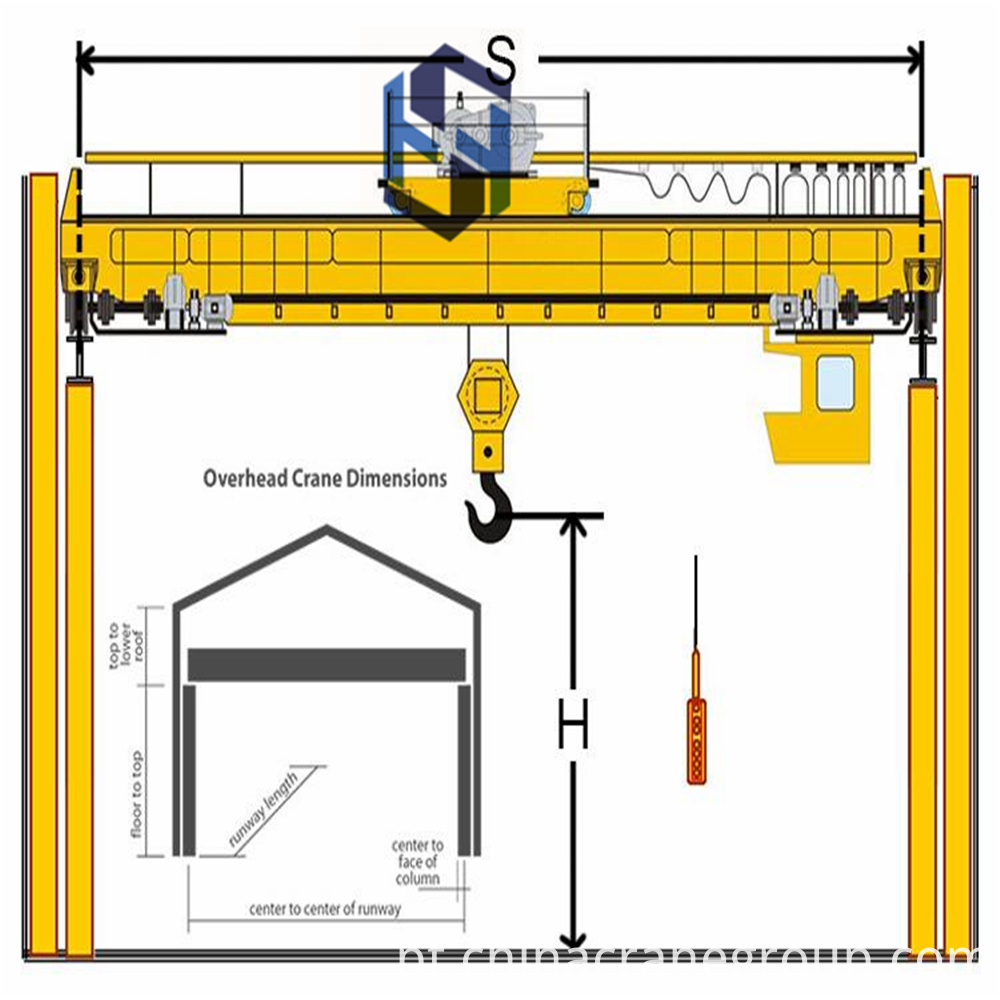 As this kind of crane is customized, in order to offer you most suitable design and best solution, please confirm following information when you send inquiry.
1. lifting capacity.
2. span length.(rail center to rail center)
3. lifting height.(hook center to ground)
4. Have you installed the rails? Do you need us supply the rails? How long is it?
5. Power supply: Voltage.Hz.Phase.
6. Working condition: which material to lift? temprature?
7. Would be better if you have drawings of your plant.
The technical data for you reference
The technical data for you reference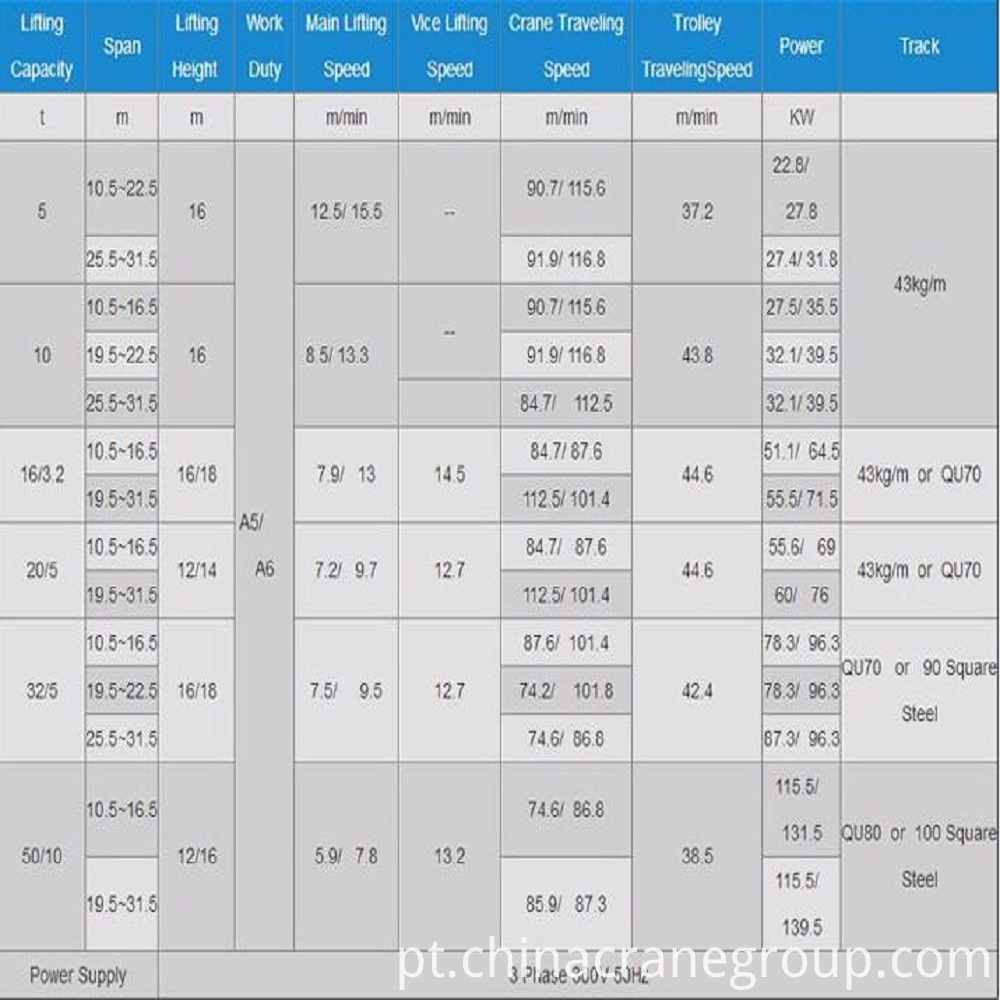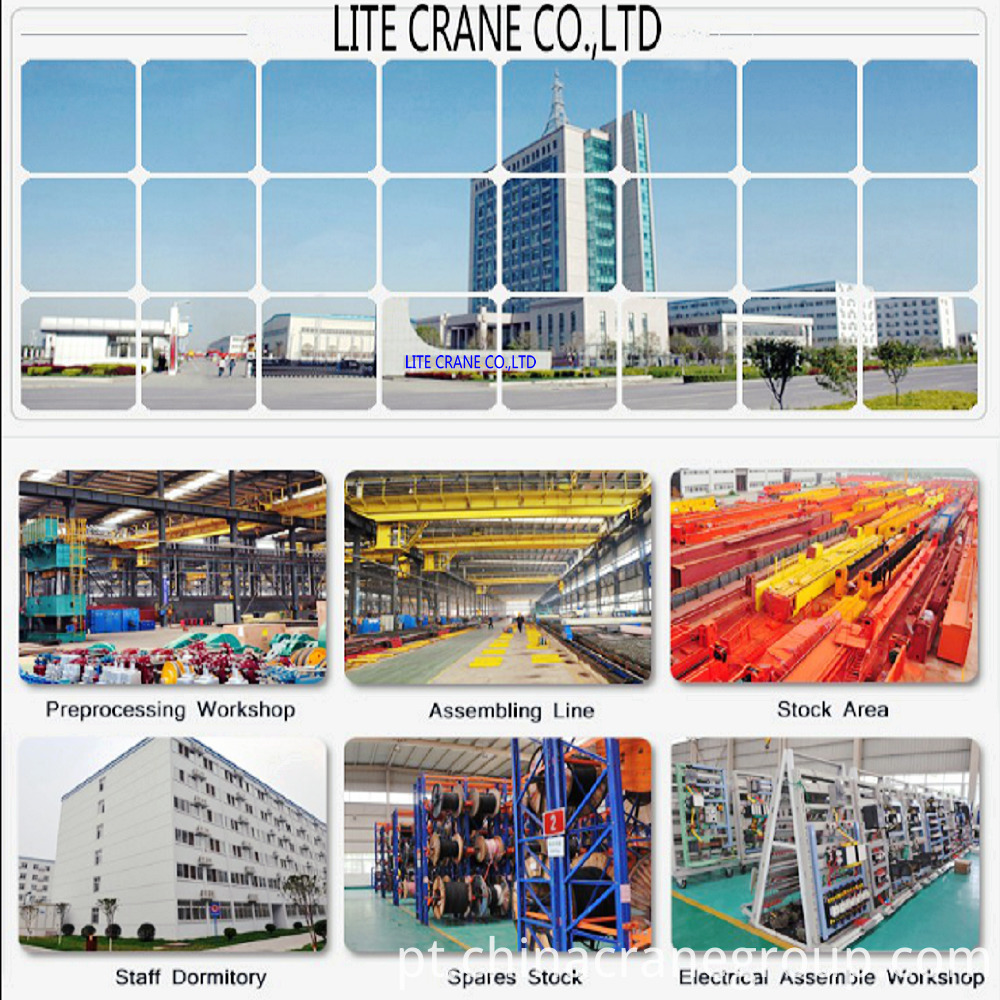 1. Our History:
LITE Crane Co., LTD has focused on top quality crane parts for over 14 years in China. We started as a small operation, but now have become one of the leading suppliers in the crane industry in China.
Today, LITE Crane Co., LTD has been one of the top producers of quality crane and crane parts, such as: electric hoist, single, double girder bridge, gantry, grab, casting, explosion-proof crane series and accessories.

2. Our Factory:
LITE Crane Co., LTD is located in Xinxiang, Henan Province China. The company covers an area of 680 thousand square meters and owns more than 2700 employees. The annual sales of LITE Crane Co., LTD is 1.6 billion USD, there are more than 600 sales agencies at home and abroad and more than 180 middle& senior engineering and technical personnel who are in charge of design and development of all products and also own the development center of their new technology and products.

3.Our Product:
Our Products includes the following:

1, Crane accessories
2, Electric hoist
3, Single - beam cranes
4, Double - beam cranes
5, Bridge crane
6, Gantry crane
7.Lifting equipment and accessories
We supply crane products all over the globe to a wide range of companies worldwide.


4.Product Application:
The products are widely used in the following industry, such as power plants, nuclear power, water conservancy, tunnels, bridges, petrochemical, metallurgy, construction, open-air warehouse, wharf, workshop ...

5.Our Certificate:
Our company is a member of China Crane Association and vice chairman company of China Heavy Machinery Association. It owns the production licenses of electric hoist, single & double-girder crane, the safety of the approval certificate of manufacturing, installation and maintenance, the safety approval certificate of the manufacturing of 320T bridge crane, portal crane and 280Tcasting crane.
The company has passed the quality system certification of GB/T19001 -2008/IS09001:2008, the environmental management system certification of GB/T24001-2004/ISO14001:2004 and the occupational health and safety management system certification GB/T28001-2001.

6.Production Equipment:
There are 1600 units of all kinds of processing equipment which can independently accomplish all the processes such as milling, digging, grinding, pulling, boring, rolling, drilling, punching, cutting, bending, welding, testing and heat treatment.

7.Production Market:
Our products are sold to more than 30 provinces, municipalities and autonomous regions in China, and also exported to Australia, Vietnam, India, Thailand and some Southeast Asian countries. The annual sales of double-girder and portal cranes is more than 3600 units, more than 23000 units single-girder cranes, about 23000 units single-girder & double-girder electric hoist and accessories. The production and sales of the single-girder cranes has lead the nation for seven consecutive years and the per capita output and economic benefits are among the best in the same industry.
8.Our service:
Besides our existing molded products, LITECrane Co., LTD also can produce products according to the drawings or samples from our customers. We control the product quality critically for every step during the manufacturing from custom.


Grupo de Produto : Ponte rolante > Guindaste de viga dupla